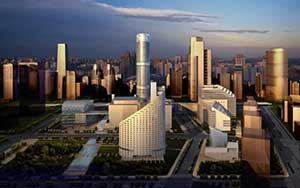 The U.S. with its record low interest rates and a rebounding economy is increasingly becoming an attractive safe haven for international investments in commercial as well as residential real estate. 2015 and 1st quarter 2016 saw record amounts of capital flow from China into U.S. real estate. The U.S. is getting a larger and larger portion of those funds.
Expiring land leases in some cities in China have created increased market uncertainty. For example, in March 2016, while completing his purchase of an apartment in Wenzhou, a buyer was shocked to discover that the associated land lease was only 20 years and it had expired on March 4, 2016. Due to this expired land lease, he had to pay more than 30% based on his purchase price in order to claim the apartment ownership and a land lease extension. There are hundreds of similar cases in Wenzhou city alone whose land leases will expire by the end of 2017.
Dr. Jin Zhao, CEO of JinList.com, commented that U.S. real estate, with its constitutional protection of property rights, clearly defined land ownership, a protected environment, and top rated universities and high schools, continue to attract a growing number of Chinese buyers.
While residential property purchases by Chinese set records in 2014 and 2015, so did commercial real estate purchases. Had China's Anbang Insurance completed its $13.9 billion buyout of Starwood Hotels, that single deal would have almost equaled all of the 2015 Chinese investments in commercial real estate in the U.S.
By showing continued interest in U.S. real estate and related assets, Chinese investors are looking for conservation of capital as well as a long term growth for their assets. Chinese investors are telling us that they see high quality and security in investments in the U.S. real estate.
Read More