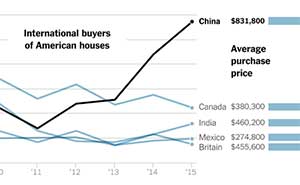 As the year draws to a close, JinListTMexpects 2015 to be another record year for Chinese investments in both residential and commercial real estate in the U.S., says Jin Zhao, CEO of JinList.com. China's fast growing private sector accounts for more than 75% of such investments in the U.S. so far this year1. Attractive returns on investments in real estate, entertainment, insurance, and technology make the U.S. the preferred market.
An expected rise in U.S. interest rates next year and the dollar's strength will only add to the attractiveness of the U.S. market.
JinList.com economics department is forecasting that Chinese will have purchased $38 billion in residential properties for the year ending March 2016.
An estimated $17 Billion in commercial real estate transactions will also be completed during the same period. Chinese invested $3.8 Billion in New York City in the first 6 months of 2015, exceeding the entire prior year's total.
High net worth Chinese buyers prefer the U.S. for considerations of education, environment and asset appreciation. Recent red level smog alerts issued in Beijing, in addition to food safety and other issues, make parents and investors there more motivated to send their children to the U.S. for good education and a protected environment.
Looking ahead into 2016, affluent Chinese are no longer just looking at New York and California for real estate purchases. As prices in these areas rise, middle class Chinese investors are looking to other areas in the U.S. that have more reasonable property prices. Meanwhile, private Chinese companies are exploring investment opportunities in real estate located in the South and Central U.S. in addition to the gateway cities.
The new relaxed visa laws grant Chinese businessmen 10 year multi-entry visas and students 5 year multi-entry visas. The new laws make it easier for affluent Chinese to travel to the U.S. for vacation, business and going to schools. During the 2014-2015 academic year, the number of Chinese students studying in the U.S. reached 304,040, a 10.8% increase over the prior year2.
All of these factors point to 2016 being another robust year for Chinese investments in real estate all across the U.S.
1.Forbes, Dec. 2015 Chinese Investment in the U.S. in 2016
2.According to a recent report by the nonprofit Institute of International Education.
Read More