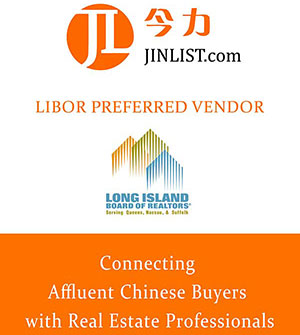 Having been selected as a Long Island Board Of Realtors (LIBOR) preferred vendor, JinList.com had a very successful show at the 2015 LIBOR Technology Fair. Real estate professionals from all over Long Island and Queens stopped by JinList's booth to learn about its Service Plans for LIBOR members. Realtors showed strong interests in JinList.com, the leading platform dedicated to connecting U.S. real estate professionals with affluent Chinese buyers. Jin Zhao, President of JinList.com, was interviewed during the Fair by First Hampton International Realty on the Chinese buyers' interest in New York real estate in general and in the Hamptons and Long Island in particular. The Technology Fair was a great success for JinListTM.

Zhao also pointed out that, with its affiliate sites, JinList.com has access to over 18 million active users in 363 cities across China including Hong Kong and Taiwan. Zhao further commented that JinList.com also connects with local high net worth Chinese buyers in 200 major cities across the U.S.

Chinese Household Income and US Real Estate
Chinese household income is what really counts, despite the bumps in its overall economic growth, commented Zhao. Income has to precede consumption. China's household income is reported to be in the range of $5 trillion a year. The real household income could be even larger if one counts the unreported or under-reported income.

In JinList's view, Chinese household income remains great, part of which is due to its cultural priority on savings. Chinese household savings provide a cushion if a family member gets sick. A significant portion of Chinese household savings is allocated toward children's education.

In 2014, Chinese students in the US reached 274,000, a 339% increase from 2004 (and a CAGR of 18%). Chinese students currently account for 31% of total international students studying in the US. With international students in the US representing $26.8 billion in total tuition for 2014 (and supporting 340,000 US jobs), the implied revenue from Chinese students totals $8.3 billion.

Recent studies suggest that 85% of high net worth Chinese want to send their children overseas for education. The US is often cited as the No. 1 destination for children's college education. Cities and surrounding suburbs that have good schools are a natural magnet to the Chinese investments in real estate.
Read More